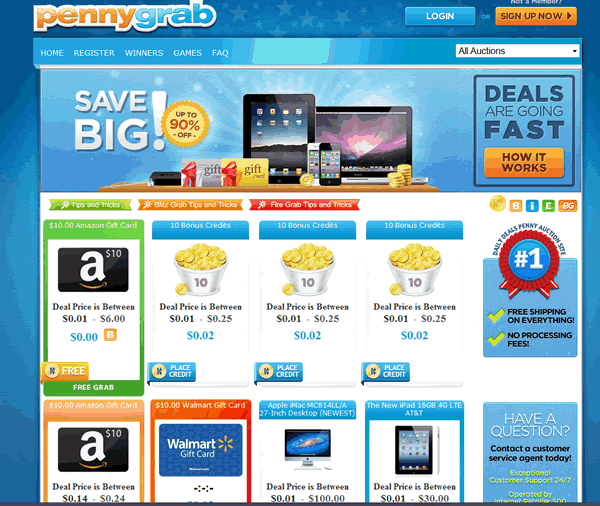 I will admit to being skeptical of most of the new penny auction sites that email me asking to be listed here. The truth of the matter is that the vast majority of them are fly by night operations that have no marketing budget, very little business plan and not much going except for a script that anyone can buy for a couple hundred bucks to start their own penny auction site. I have to admit though, PennyGrab.com is different.
PennyGrab.com is a pretty innovative auction model called a timerless auction.
It is different than the traditional penny bidding sites like Quibids or SkoreIt. There is no count down timer that keeps resetting each time a bid is placed. Instead, the credits pile up until the key price is hit. We will explain in detail below. For now, let's take a closer look at Penny Grab.
What Is Penny Grab?
Penny Grab offers members a chance to score incredible deals on the items they love. They offer a wide variety of items up for bid starting at $0.00. Each time a bid is placed the price of the auction increases by one penny. PennyGrab themselves set a computer generated ending price for each and every auction. This ending price is the key price for this auction and once it is hit, the auction is over and who ever hit that price wins.
You must purchase credits in order to bid in an auction
Credits cost $0.75 each
Each time you bid one credit is removed from your account (costing your $0.75)
If you do not win the auction, you do not get your credits returned
You may bid as many times as you want on an auction, spending a credit each time you do.
How To Win On PennyGrab
Winning on PennyGrab is done by placing the last credit that triggers the auctions winning price.
For example: If the PennyGrab computers have set the auction ending price at $1.27. To win, you would need to place a bid when the auction price is listed at $1.26. Your bid would bump the auction price up to the magical winning price and you would win. Winning the auction means you have the right to purchase the item at the auctions ending price. This ending price is usually an extremely significant savings over the retail price of the item.
Is PennyGrab Legit? How Do They Sell Items So Cheap?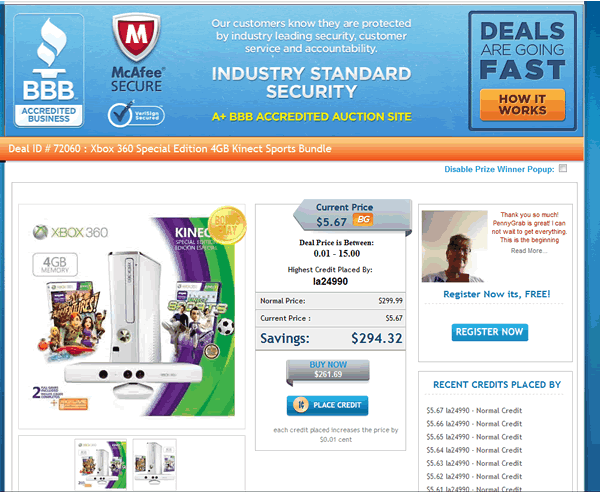 Yes, PennyGrab is a legit site. Not only are they BBB accredited but they just now over one year old and still in business. I know one year may not sound like much, but in the industry of penny auctions, one year is way better than most sites do.
If PennyGrab is not a scam, how do they sell deals so cheap?
Remember, you must purchase credits to participate in any of their auctions or deals. Credits cost $0.75 each. If you place a credit and do not win then you have lost that credit and spent seventy five cents. You have effectively 'lost'. To bid again you have to spend another credit. Each time someone bids the auction price goes up one penny.
An auction that reaches $1.00 auction price means 100 credits have been spent up to this point. If every credit costs $0.75 then there have been $75.00 worth of credits spent so far by bidders trying to be the bidder that closes the auction out by hitting the winning price (100 credits x $0.75 = $75.00).
Oh I hear the cries of "What about shills, robots or softwares that run rampant at some of the more un-savory penny auction sites?"
The truth of the matter is that PennyGrab does not need to use bots or shills in order to remain profitable. They use timerless auctions that work differently. There is no timer or a last second bot bidder to extend the auction or to keep real bidders from winning. They use a computer formula that sets prices on a group of auctions and does some randomization. These prices ensure a profit for PennyGrab for the group of auctions. Individual auctions can go for low prices (like an iPad that recently went for 99 cents!), higher prices, or somewhere in between.
No one knows on individual auctions until the reserve price is hit. They do set a 'Deal Price' which is between a certain number. Deal prices begin at begin at $0.01.
The point is, there is not a reason to employ shills or bots because the math behind the auctions ensure that PennyGrab earns a profit over a group of auctions. Individual auctions can go either way.
Can You Get Great Deals On PennyGrab?
Absolutely, yes. And if you win you will get your item as promised. If you can time it correctly and place your bids that win then you can certainly win great deals. You can win amazing deals. You can win items for such cheap prices it will make your head spin. If you are willing to risk a little for the chance to win a lot then you will probably really enjoy bidding on PennyGrab.
It appears to me to be a site with a very level playing field, where anyone can win and it is not just on name and reputation alone. There is nothing stopping you from bidding against anyone on PennyGrab because penny grab does not use a timer with their auctions.
PennyGrab Vs Other Penny Auctions
They way PennyGrab.com works is different than any of the other bidding sites we have ever listed here. They offer timerless auctions. No count-down timer that keeps resetting by someone last second bidding you to death. There are no timers on PennyGrab.com. Just a 'reserve price' or an winning price that you have to be the bidder at. In my opinion this kind of auction site, while encourages strategic bidding, is more heavily luck based. It actually makes bidding on PennyGrab fun, exciting and an enjoyable way to try and get amazing deals on incredible items.
Deals To Be Won On PennyGrab
There are a wide variety of items up for grabs on PennyGrab.
Gift Cards ($10 – $50 mostly)
iPads
Computers
Video Game Systems (xbox)
Jewelry
Precious Metals – Silver and Gold coins
Current Electronics
Ladies Purses
Way more items constantly up for auction
Final PennyGrab Thoughts
I am impressed with the penny auction site and the way they do things different. If you are tired of having people with endless bids keep you from winning but you like the idea of risking a little to win a lot then you will like PennyGrab. I am satisfied that they are a legit penny auction site and are backed by real businesses and deliver items as promised. If you are looking for a different kind of penny auction site then I am certain PennyGrab.com will have something you will be interested in.