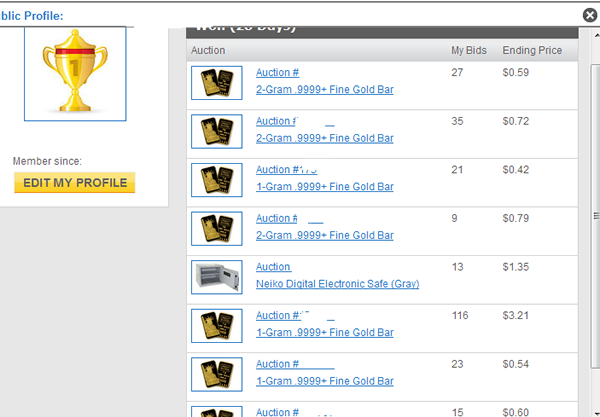 I have been a long time precious metal collector. When I found out that two of my favorite penny bidding sites, HappyBidDay and SkoreIt, offered up a regular selection of precious metal penny auctions, I was thrilled! The thing about a penny bidding site offering up silver coins or gold bars to bid on is that you can never have too much gold or silver. I do not mean that in a conceded way but I mean that there is only so many HDTV's or XBOX's one can win without having to become a reseller to get your money out of the item.
Which Penny Auction Sites Auctioning Gold?
Here are the two recommended sites to bid on gold:
HappyBidDay – this lesser known site is legit and offers a nice selection of precious metal up for grabs. It is listed in their 'jewelry' category. Bars of gold, and 1oz coins and bars of silver are the most common.
SkoreIt – not easy to win, but they offer up to 1/4 oz gold coins and 10oz silver bars. Bring your big guns if you are battling for these, it does not come cheap
If you win a bar of gold then that is as good as cash that you can exchange at any point in time. Plus, if you are investing in the metals then finding a site where you can win a few at pennies on the dollar is a nice way to help you offset your costs of acquiring the metal in the first place. If you have some gold or silver then you can always get access to some cash by pawning them at a pawn shop (if you just need a loan) or selling them at a jewelry store or a coin dealer.

Bidding on Gold at Happy Bid Day

One of the best kept secrets of the penny auction world is that HappyBidDay is one of the best places to bid on gold and silver. They have a healthy selection of 2g gold bars that come up for auction daily (or near daily, the schedule always changes) as well as a wide variety of silver coins that you can bid on. Plus, I've seen a log of 4oz silver bars coming up for auction and those are good money.

The number one thing about winning gold or silver on HappyBidDay is that while the auction volume is not as high as skoreit, the number of competitors is fewer leaving a similar or slightly easier field to battle against to win your auction.