Happy BidDay Quick Facts
Best Bid Buy Deals Here

Legit Auctions
Fun But Competitive
Has Precious Metal Auctions - Silver bars!
Bidding Details
Get 375 Bids For Only $85 - 40% Discount

Free Bid Auctions Called HappyAuctions
Bids cost ~ $.40-$.50 each
Lightning Fast Delivery
HappyBidDay.com Facts & Info
PennyAuctionSites.com Special Offer: 375 bids for $85
Editorial Happy Bid Day Review
HappyBidDay is a medium to small sized penny auction that offers up a healthy amount of auctions every day. Current Bonus / Promotion: Claim 375 Bids for $85 and get in the game! The site began operations in mid 2010 and have a stellar reputation (see bidder ratings of happybidday)in the penny auction community as providing a fair and honest penny auction experience. One of our favorite things about HappyBidDay.com is that they ship out items lightning fast and the customer support is responsive and helpful.
HappyBidDay Scam Or Legit Penny Auction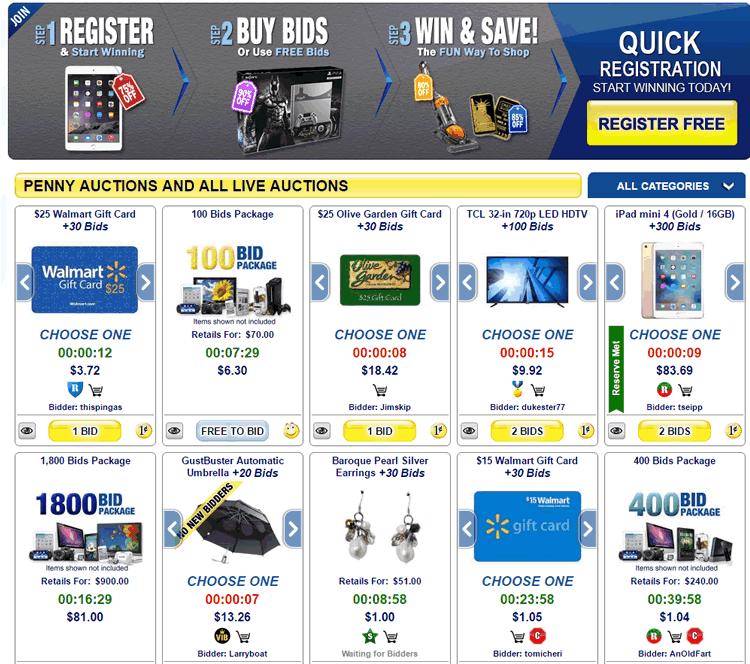 HappyBidDay.com is not a scam and they are not out to rip you off. If you are not familiar with the
basics of penny auctions
then please take a minute to read up on how these pay per bid sites work. Yes it is true that you can lose money on this site
but you can also win incredible deals
.
With HappyBidDay.com you can feel comfortable you are getting a fair shot at winning an auction
and rest easy knowing that when you do win an auction and complete the purchase you will get the item! HappyBidDay is a trusted, reputable, real and
verified penny auction site
.
Happy Bid Day Promo Code & Top Bonus Offer
The larger bid pack you purchase, the bigger discount you get.
Here is the current best offer: 375 bids for $85
I highly recommend buying the biggest bid pack you are comfortable with. Buy 375 bids for $85. It's the best deal overall and is plenty of bids to get started with and to give yourself enough ammo to win some auctions if you bid strategically.
At the bottom of the page you can find reviews of HappyBidDay from other bidders as well as see how they rate HappyBidDay in a handful of important categories including how trustworthy they are. You can find our full list of penny auction reviews as well if you want to compare them against other highly rated bidding sites and check out the details of the happy bids affiliate program.
Types of Products on Auction
HappyBidDay.com has a pretty good selection of merchandise up for grabs every day. They do not have the quantity of high end merchandise that some of the big penny auction sites have but you have to remember that HappyBidDay is a smaller to medium sized penny auction site.
Common auction items include:
Gift cards & Gift cards with free Bids
Bid Packs
iPad II – HappyBidDay is one of our top picks for penny auction sites with iPads, but be prepared to battle as these auctions are always competitive
iPods
Kindles
2g Gold Bars (a top penny auction to win gold and silver)
1oz Silver Bars
Remote Controlled Helicopter
Womens Jewelry (watches, bracelets, earrings etc)
Telescopes
Metal Detectors
Shipping Details for HappyBidDay
HappyBidDay has some of the fastest shipping times from the different penny auction sites we have tested. You can expect items to ship out generally within 24 hours of you paying for the auction and then show up via UPS ground or USPS. We have paid for an auction on a Monday and had it in our hands on a Wednesday. Happy Bid Day has lightning fast shipping!

Bidder Ratings of HappyBidDay
Real bidder reviews and ratings are listed below. If you have bid at HappyBidDay.com before then we invite you to rate the site, leave your comments and help us create a quality resource other potential bidders find invaluable when deciding whether or not to bid at HappyBidDay.com
HappyBidday
Auction Junkie
2012-10-01 12:13:55
Happy BidDay Quick Facts
Best Bid Buy Deals Here

Legit Auctions
Fun But Competitive
Has Precious Metal Auctions - Silver bars!
Bidding Details
Get 375 Bids For Only $85 - 40% Discount

Free Bid Auctions Called HappyAuctions
Bids cost ~ $.40-$.50 each
Lightning Fast Delivery

HappyBidDay.com Facts & Info

Official Website: www.happybidday.com
Facebook Page and Twitter
Address: Razzl…
Editor's Rating
Overall Rating
Trustability
Customer Service
Auction Volume
Auction Variety
Ease of Winning
Website Engagement
Shipping Speed
Shipping Cost
Comments, Reviews & Ratings From Real Bidders
10 Ratings
sandra knight
— December 7, 2017
I am new to this site, won 2 items still not shipped. Won on 11-28-17. Still not shipped! Yesterday, BidRunner Tool started on capped item of $5, did not win and bids WERE NOT REPLACED AS ADVERTISED! BEWARE!!!!!!!
Todd Roken
— September 27, 2016
I love bidding sites and HappyBidDay is one of my favorites. They have a feature called choose one where one auction has over 15 products so you can always find something you want.
Priscilla
— May 27, 2016
I've won the most gold and silver coins and bars from here. And they shipped so fast. I also like all the contests and specials – they run them frequently and regularly.
Karen Brooks
— May 26, 2016
Happybidday is my favorite auction site & I've tried all of them. They have the fastest shipping by far and the best specials.
Mary G
— May 24, 2016
Love This Site! I won several items and the best part is the shipping is super fast. I love the specials they run and customer service is excellent
Gary Cagle jarhead61
— August 10, 2014
I have played many, many sites, but this has been the best for me. There has been some changes in the last week, 8-6-2014, that I do not care for, but all in all, It is the best site that I have found. Shipping is great, also.
Lynn
— January 9, 2013
Happy bid day has been great for me, never had probs with them. They always keep the big name product stuff, but honestly my faves are gift cards. They get the "you pick" kind and always have gas cards and Amazn. Shipping is preety quick and I like their free auctions too.
davey joe fox
— December 7, 2012
i bought a bid pac and you will not let me use it i want i want my money back today ill check later ive tried to use it for a few days
Donna
— January 14, 2012
Happy auctions with no cost bids are my fav way to get bid paks for cheap. Turn those around into gc wins and then buy what I want from amazon. Site is in what I call the 'sweet spot' in size where it is big enough to have a bunch of auctions but small enough to let patient people steal great deals more often than at sites so big you are going to be fighting someone every auction.
Auction Junkie
— January 5, 2012
One of my favorite sites to win gold and silver. They have 2g bars of gold and 1oz coins and bars of silver. They are one of the fastest shipping penny auction sites online and I do believe the site itself is legit. I've won and received around 7 wins from Happy Bids so far.
Please Rate, Review & Share Comments