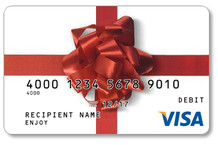 Most penny auction sites offer gift cards that can be used at a variety of popular retail stores and restaurants. There are several reasons to bid on them, which we'll explain in detail below. The challenge is knowing where to bid in order to find the best deals. Bidding at the right gift card penny auction sites can make the difference between saving a few dollars, and reducing your shopping and dining costs by up to 95 percent.
On this page, we'll help you sort through your options. We'll list our favorite penny auction sites to win gift cards, and highlight the best of the lot. We'll also explain some of the advantages of bidding for gift cards as opposed to focusing solely on particular products. Lastly, you'll learn a few tips that will help you to win more auctions and maximize your savings.
4 Popular Penny Auction Sites To Win Gift Cards
QuiBids.com – largest selection of gift cards from high-profile retailers
HappyBidDay.com – smaller with less competition, lots of eGift and Amazon gift card penny auctions
Beezid.com – gift cards from a wide range of merchants, valuable bidding tools
BidCactus.com – large, safe, and trustworthy, offers airline, Amazon, department stores gift cards
You'll notice that the gift cards offered at these four penny auction sites are similar, and sometimes identical, to those offered at other sites. But there are several reasons to visit these four, some of which will become clear as you review this page.
"Best Of Class" Gift Card Penny Auction Site
Our current favorite is QuiBids.com. They offer an impressive range of gift cards from top-shelf merchants, such as Target, Walmart, Home Depot, and Starbucks. You'll also find gift cards that can be used at several popular restaurants. Use them to slash your lunch or dinner bill at Applebee's, Outback Steakhouse, Chili's, and other places.
In addition to their large selection of retailers and restaurants, we also like QuiBids's size and reputation. They are the largest and best-known site in the industry. This means you can count on them being trustworthy and reliable.
A possible downside to QuiBids's popularity is that they attract a lot of bidders. People realize they can trust the site, and thus are more inclined to visit. For most products where the volume is limited – such as HDTVs, iPads, and gold bars – the influx of bidders means more competition. This factor is less important when bidding at penny auction sites to win gift cards. At any given time, you'll find dozens of live gift card penny auctions, rather than a single auction that draws all interested bidders. Having said that, you'll still find our QuiBids strategy page helpful.
Choosing Your Preferred Gift Cards
At most of the sites mentioned earlier, you'll find two types of gift card penny auctions. The first type can be redeemed at a specific retailer or restaurant, which is listed in the auction. For example, you can bid for a $10 gift card to Walmart, a $25 gift card to AMC Theaters, or a $50 gift card to Chili's Grill & Bar.
The second type of auction puts a card up for bids, and allows the winner of the auction to choose from among a list of merchants or restaurants. For instance, you might bid for a $25 gift card, and be asked to choose between Land's End, Macy's, and Famous Footwear. Realize that you must choose a retailer before the auction site can mail your card to you.
Advantages Of Bidding For Gift Cards At Penny Auction Sites
We mentioned earlier that there are several reasons to bid for gift cards. First, the auctions for the cards provide a good training ground if you're unfamiliar with penny auctions. Rather than use several bids to compete for a high-end product, such as an iPad, you can use a few to win a low-limit gift card. The risk is limited. For example, it's common for $10 Walmart cards to auction off for a few pennies.
Another advantage is the low shipping cost that accompanies the cards. Shipping costs reflect the weight of the item won in the auction. While a high-end HDTV may cost $50 or $60 to ship, a gift card rarely costs more than $2 (factor this expense into your bidding).
Gift card penny auctions also give you an opportunity to pick up gifts for other people at an extreme discount. For example, suppose you want to buy a $10 Starbucks card for someone. Rather than paying the full $10 at a Starbucks location, you may be able to win one in an auction for pennies.
There are clearly good reasons to participate at penny auction sites to win gift cards. But keep the following items in mind while doing so.
How To Win At Gift Card Penny Auction Sites
As we mentioned, although QuiBids receives a high volume of bidders due to its reputation and popularity, this doesn't necessarily mean that the auctions have strong competition. If you're bidding on a Callaway Hawk Driver, for which only a few auctions exist, expect a bidding battle. By contrast, there may be a dozen or more penny auctions for Walmart gift cards at any given time. Add to these a dozen penny auctions for Target gift cards. Bidders are usually spread out, resulting in less competition.
Another notable item: if you plan to bid in multiple auctions, keep your eyes open. Because bidders are spread thinly, the countdown timers can expire unexpectedly due to a lack of action. While this means you can stumble across amazing deals (e.g. a $10 Walmart gift card for $.03), it also means you may just as easily lose out on them. If you're unable to watch your auctions, we recommend bidding at Beezid.com, where you can use automated bidding tools.
Lastly, watch your spend. It's easy to get involved with winning an auction, but keep in mind that each bid costs money. While chasing a $10 Target gift card, you might inadvertently spend more than you hope to save, especially considering the $2 shipping fee.
Take advantage of our effort. Use our reviewed list of safe penny auction sites to bid for gift cards that can dramatically reduce your shopping and dining bills.
Comments, Reviews & Ratings From Real Bidders
4 Ratings
Jessica
— October 27, 2016
Its better to a lest save more with a bid than shopping in s
tores
Judith Rogers
— October 8, 2012
Thanks for some much needed advice & direction. I've tried all the other sites, too; and haven't won anything – even when they say they have beginners bidding auctions or starter sites. I got clobbered by a few Power Bidders and nearly gave up. Thanks for the info and whatever other info you can give me. I'm battling cancer so a little means a lot. Sincerely, Judith
diane little
— June 8, 2012
I was surprised to see that you did not mention zbiddy. I learned my strategies there. I have won a little bit at happybidday, nothing at cactus and have lost a lot at dealdash. However, at zbiddy, i am "thrown out" every time i play after about 45 minutes to an hour. Of course, I have learned the right times to go and when to start bidding and on what, but I play several times a week and am profiting $1500 per month. I may decide to spend more time there but am very busy with many other things. I am loaded up with gift cards from walmart, target, shell gas, priceline, 300 dollars in restaurant tickets, 350 at price-line for air fare and the list goes on. Winning bids is so easy. Go for the smaller ones–15 to 25 further down the page that no one is paying attention to and win on the first bid. Do that enough times and you get alot. Again, in case it wasn't clear, it usually only takes me about 45 minutes to an hour to have exceeded my wins for 24 hours on zbiddy. Have won very little on happybiddy but they are having a summer special of only 27 cents a bid packs so i am going to try it again. anyway, just wanted to give you my take on zbiddy. thanks for your tips. i learned mine the hard way. i have found, though, that with a fairly innocuous name, not friendly or non threatening, simply benign, that I become an unsuspecting threat at the last possible time. I let things hit 1 second, wait a beat, then bid. Usually someone else beats me to it. Also, on zbiddy, you get lots of free bids, great way to win vouchers and priceline and restaurant tickets (50 dollars and above, usually) but you have to make a spent bid between each free bid. And you are locked out after about 350 dollars per 24 hours. Still, a great deal.