It's a sad day for me in some aspects today. My all time favorite penny auction site has officially had their last auction. The skype message from a friend of mine today read 'RIP SkoreIt' and when you go to www.skoreit.com you are re-directed to Beezid.com/skoreit which says 'SkoreIt and Beezid Are Joining Forces' and it shows the Ref from SkoreIt and the Bee from Beezid exchanging SI bids for Beezid bids.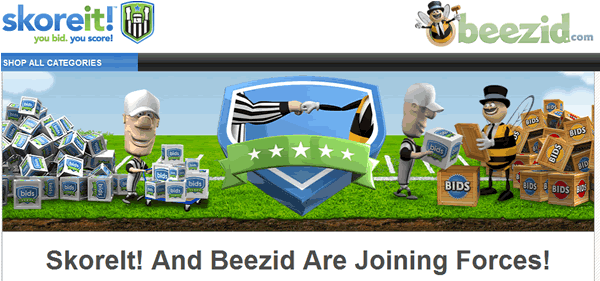 Why This Sucks For SkoreIt Bidders
I have to admit, the writing on the wall for SkoreIt has been there for a while. The regulars who were not banned from SkoreIt were pretty much proclaiming that the end was nigh for months now and that they were a site that was circling the drain.
Top Five Reasons This Sucks For SkoreIt Bidders
Beezid sells bids cheap. Often at 3×1. SI did not do this (other than for a short while). This means a 'SI' bid is theoritically worth 'more' than a Beezid bid.
No clicking on bidder names for strategic information on Beezid – This feature really allowed for strategic play on SkoreIt. Can't do so on Beezid
No gold or silver on Beezid. This was my personal favorite target on SkoreIt
Some crazy deep stacks on Beezid. Some really heavy hitters were bidding there, or were not too long ago (I haven't bid too much lately).
To really be competitive you have to have a software like Beezid Pro
I found out about SkoreIt just a little over 2 years ago. As a matter of fact, playing on SI really helped me get through a very difficult point of time in my life. It was something refreshing and unique to do that gave me focus and just honestly 'something to do' while my wife was recovering from a serious illness and we spent many days in the hospital. It personally makes me sad to see them go. They really allowed for strategic game play. Bidding on SI is different than anywhere I have bid on. More entertaining, more rewarding, more challenging and more competitive and frustrating. All together made it such a fun place to bid.
Regardless, I am quite happy with my lifetime Stats on SkoreIt and my overall ROI was through the roof.
What Do SkoreIt Bidders Do Now?
If you were a former SkoreIt player all you have to do is go to SkoreIt.com and it will automatically re-direct you to the Beezid landing page where you can enter your SI account and have your bids transferred over to your new account on Beezid.
If you have accounts at both sites there is a tab to check when you move over. I haven't moved over my SI account yet as I didn't have any bids there. Has anyone done so already? Can you choose which name you keep?
Final SkoreIt Thoughts? (Leave Yours Below Too!)
I wish things would have went differently for SI. I loved bidding there. I encouraged them to get an affiliate program and let affiliates drive traffic to them but from my understanding, the CEO was against it. Poker affiliates were actively looking for something new to promote and SI fit right in with the poker players. I feel we affiliates could have driven a ton of players to the site that would have led to many more battles and way more bids bought and spent winning the same items over the past 2 years. I think things could have been different.
I hope Beezid is successful with the acquisition and I wish them the best of luck.
Good luck out there!
SkoreIt, you were fun while you lasted!
P.S. A lot of people have been wondering what the Auction Junkie has been up to since SkoreIt went down. Well, I've moved on from Penny Auctions (notice not much posting on here anymore) and I'm now making some money trading binary options. www.binarytrading.org is a good website to learn how to trade and you can find the best binary options trading sites on this page.