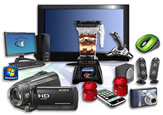 Consumer electronics penny auctions are popular because you can find products from the top brands priced at extreme discounts. From digital watches and ebook readers to cordless phones and portable DVD players, best-selling products can be won for pennies on the dollar. Because of their popularity, you'll find penny auctions for electronics at all of the top-rated auction sites. The low prices and top-shelf brands remain an irresistible draw for gadget aficionados.
Below, we'll profile the best sites we've found for bidding on electronics. We'll explain the reasons we believe you'll like them, and provide several tips to get started at them.
Top 5 Penny Auction Sites For Consumer Electronics
HappyBidDay.com – generous promos, impressive selection of electronic devices, and fast shipping
QuiBids.com – trustworthy and safe, wide range of inventory, and a "buy it now" option on all auctions
Beezid.com – reputable penny auction site with high-end electronics and useful bidding tools
SkoreIt.com – one of the best interfaces in the industry, large product selection, and quick shipping
BidCactus.com – smaller auction site with less competition, audits performed by a "Big Four" accounting firm
For every reputable penny auction site we review, there seem to be ten others that are questionable. This is the reason we recommend visiting the five sites listed above. Each one offers an assortment of attractive electronic gear from the top brands. Additionally, each has been reviewed and tested for speed, ease of use, shipping fulfillment, and many other criteria.
Having said that, there is one particular site that stands apart from the rest…
Top Sites By Type of Electronic To Win
Leading Site For Discount Electronics Penny Auctions
Our current favorite penny auction site for consumer electronics is HappyBidDay.com. But it is important to underscore that our decision is based on much more than their impressive inventory and fast shipping. First, because they are smaller than the huge penny auction sites (for example, QuiBids), they usually have fewer bidders competing for items. Less competition often means you can win electronic gear without using as many bids. Keep in mind, however, that this is not always the case.
Another reason we enjoy HappyBidDay is because they are motivated to attract new members. To do so, they offer a large bounty of free bids to get started. There are restrictions to using them, the details of which you can find on our page about free bids at penny auction sites.
One of the surprising aspects about HappyBidDay is that despite their size, they have consistently been one of the most reliable penny auction sites in the industry. Others have come and gone quickly, disappearing before gaining much traction. But HappyBidDay has become a stronger, more appealing site over time.
Your Backup Plan: The "Buy It Now" Option
There is one area in which HappyBidDay is lacking: they do not currently offer a "buy it now" (BIN) option. This is a feature that allows you to purchase the item for which you are bidding at its listed price. The auction site will typically deduct the cumulative price of the bids you have submitted for the item prior to your taking advantage of the BIN option.
This feature is essentially your backup plan. If you are very motivated to own a particular item, simply use the BIN option to secure it for yourself. We recommend visiting QuiBids.com to find electronics penny auctions with the "buy it now" feature.
Winning Penny Auctions For Electronics At QuiBids
For a full treatment of bidding strategies at QuiBids, we encourage you to read the page we have devoted to it. That said, we can give you a few tips.
First, QuiBids is very large, and thus has a lot of competition. If you lack experience at the site, spend a little time watching electronics penny auctions without participating in them. Observe how they progress.
Also, if you are considering using the BIN option, make sure you are aware of the listed price ahead of time. Then, commit to a "cut off" point (the number of bids you submit) at which you'll trigger the feature.
Realize that a lot of bidders on QuiBids are very experienced. Look into their history. If you stumble upon someone who wins a significant portion of their auctions, avoid competing aggressively with that person.
SkoreIt Bidding Tips For Consumer Electronics Penny Auctions
As with QuiBids, we have created a page presenting SkoreIt bidding tips. Spend a few minutes reading that tutorial before participating in the auctions.
We recommend that you try SkoreIt's AAA auctions since bidders are prohibited from using automated bidding tools. Every bid must be submitted manually. This is a major limitation for some of the aggressive, experienced bidders. Many will go elsewhere, removing themselves as your competition.
One method for using the "manual submit" feature to your advantage is to submit a series of quick bids early in the auction. That way, you essentially control the event while the timer counts down.
Winning Beezid Penny Auctions For Discount Electronics
When participating at Beezid.com, we encourage you to embrace their automated bidding tools (Auto-Beezid and Beezid Sniper). We've created a tutorial on Beezid bidding strategies that will explain how to use them in electronics penny auctions. Here are a couple of tips:
First, the Auto Beezid tool is designed to submit bids immediately after someone bids above you. Load the tool with a predetermined number of bids, and let it handle the bidding for you. In a lot of cases, other people submitting bids manually will become discouraged and drop out.
Second, the Beezid Sniper is designed to slip in a bid at the last possible moment before an auction closes. This is a useful tool when leveraged properly. We recommend using it with the Auto Beezid. We describe a savvy strategy for doing so on our Beezid strategies page.
Whenever you participate in penny auctions for consumer electronics, approach the events dispassionately. Don't become emotionally involved with the items for which you're bidding. Have a strategy in place, and follow it to the letter to improve your chances of winning without needlessly wasting bids.
Look for your favorite electronics at HappyBidDay.com now!