Penny Auctions With Xbox, PS3 or Wii Games & Systems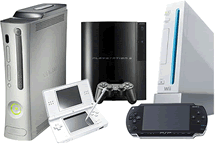 There are countless penny auction sites with video games, such as the Xbox, PS3, and Wii. It's a great way to win a gaming console without having to pay retail price at your local Walmart or Best Buy. The challenge, as always, is to cut through the chaff in order to find the best video game penny auction sites at which to participate. We'll save you the time and trouble.
We've compiled information on this page to point you to the best places to bid on gaming consoles. Invest a few minutes to read through it. You'll learn where to find the best Xbox penny auctions, Nintendo Wii penny auctions, and PS3 penny auctions, as well as what to expect when you arrive. We'll also give you a few tips that will help you to gain an advantage over other bidders. With those goals in front of us, here is our current list of safe and trustworthy Xbox, Wii and PS3 penny auction sites.
Top 5 Video Game Penny Auction Sites
HappyBidDay.com – wide selection of Xbox consoles, and a variety of PS3 and Wii consoles
QuiBids.com – game systems, bundles, games, and accessories, a one-stop shop for video game penny auctions
Beezid.com – fast-paced auctions for Xbox 360 w/ Kinect, PS3 bundles, and Wii bundles, lots of competition
BidCactus.com – large number of Xbox and Nintendo Wii penny auctions, huge variety of video games
SkoreIt – safe, reliable, fast shipping, smaller selection of Xbox and PS3 penny auctions
When you visit these five video game penny auction sites, you'll notice that a few of them seem to specialize in games rather than the consoles. For example, there may be very few PS3s, but you'll find the latest versions of Call of Duty, Gears Of War, FIFA Soccer, and other games. Even if a particular site doesn't offer the console you're looking for, you can still find great bargains on the accessories. Keep that in mind.
Best Penny Auction Site For Video Games
This is a close race between HappyBidDay.com and QuiBids.com, often though of as quick bids. One of the reasons we like QuiBids is because their size means you can find an enormous range of items on auction. To date, they have been one of the most prolific Xbox penny auction sites we have seen. Plus, they provide a Buy It Now option on all of their auctions. If you are new to penny auction sites, the BIN option offers a good fail-safe measure. It reduces your risk.
Having said that, we give HappyBidDay.com the crown for being the top penny auction site for video games. They have a slimmer selection of PS3 and Nintendo Wii penny auctions, but put a large number of Xbox consoles on auction. We also like the fact that they ship quickly, and accept returns.
Another point in HappyBidDay's favor is that they offer generous promotions to new members, including bonus bids and free bids. Since the site is smaller, they work harder than QuiBids to attract bidders. That works to your advantage.
Also, in the event you're unable to watch your Wii, PS3, and Xbox penny auctions, use the automated BidRunner tool to manage them for you. You can set several parameters, such as "bid from, "bid to," and the amount you'd like to bid. That way, even if you're forced to step away from your computer, the BidRunner can help you stay on top of the action.
Winning At Video Game Penny Auctions
There are several things you can do to improve your chances of winning an Xbox penny auction (or any popular gaming console). We've created an exhaustive tutorial explaining penny auction bidding strategies, and encourage you to read it. However, we'll help you get started with a few tips.
If you're an avid penny auction bidder, consider power bidding. This is a long-term strategy during which you build a track record for bidding until you win. Your competitors will note your reputation as a power bidder, and shy away. The result? You may be able discourage other people from competing, which means you'll win auctions while using fewer bids (each of which costs money).
One note of caution: beware of other power bidders. Facing off with one in a PS3 or Nintendo Wii penny auction will amount to a game of chicken. That can become expensive.
Another good tactic is to focus on the "starter auctions." These are reserved for those who have not yet won a previous auction. (You'll find them at HappyBidDay.com as well as Beezid.com.) If you're new to a particular Wii, PS3, or Xbox penny auction site, you can use these beginner auctions to avoid much of the competition. The "starters" at Beezid (called "cherry" auctions) are the best place to start looking for video game penny auctions.
Lastly, make sure that you show up with a sufficient number of bids at your disposal. It does little good to compete like a pro, keeping other bidders at bay, only to run out of bids at the worst possible moment. This tip may seem intuitive, but a lot of people make this mistake.
One final suggestion: you'll inevitably find one site that becomes your "favorite." But don't neglect the others on our list of recommended safe penny auction sites. Instead, use them all to cherry-pick the most promising penny auctions for video game systems, games, and accessories.
Related Articles