So how much is too much? Isn't that always a question that goes through your mind as you bid on any auction? Well, penny auctions are no different… you may be only bidding by a penny at a time but that doesn't change the fact that when all is said and done you may have paid more than you bargained for.
Read through our Beezid.com review and see if it looks like a penny auction site for you and this in depth beezid strategies before trying your hand there today!
Ever watched The Price is Right and listened as people screamed at Bob Barker "THAT'S TOO MUCH!"? Well – you'll look at a few of these Beezid battles and scream "THAT'S TOO MUCH!"
Check out our Top 10 THAT'S TOO MUCH list:
#1 – Aka – Lock Breaker will break more than locks!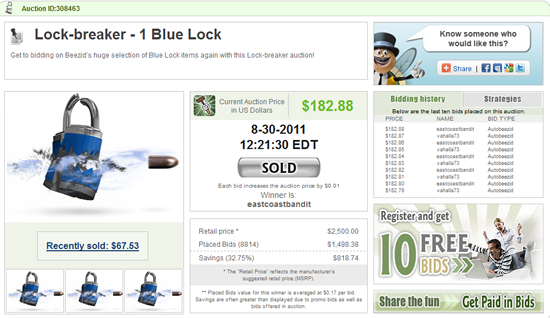 from the looks of it $182.88 may not SEEM too much but let's look closer…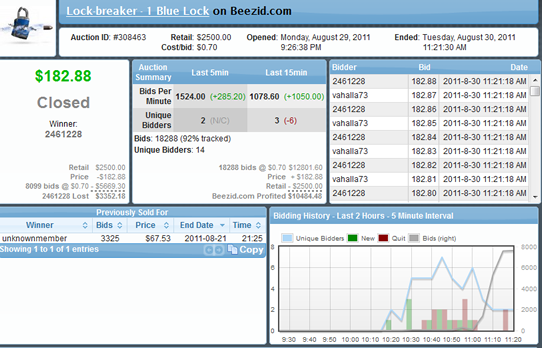 Hmmm – I don't know about you but my spouse would NOT be happy with a LOSS of $3,352.18!…especially for a lock breaker?!?!?
#2 – Lock Breaker Strikes Again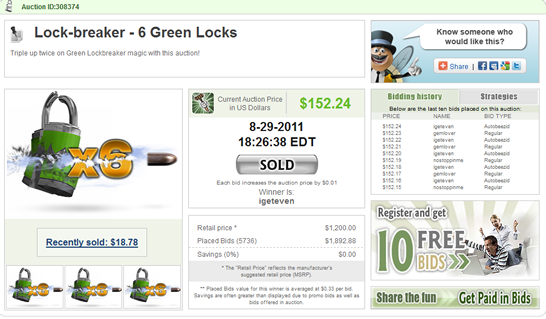 $152.24 for 6 GREEN locks?  Eh – not bad but wait…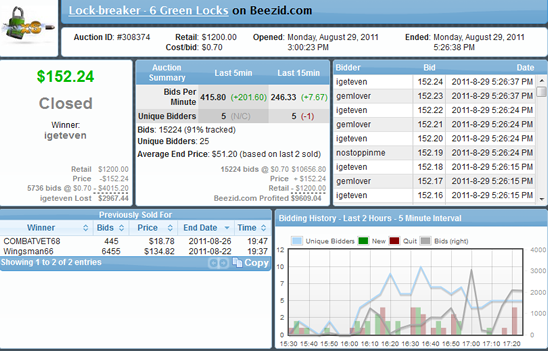 Oh SNAP! What do you mean it was a loss of $2,967.44?!?!  Guess green isn't always better.
#3 – Home Depot- its to IMPROVE our HOME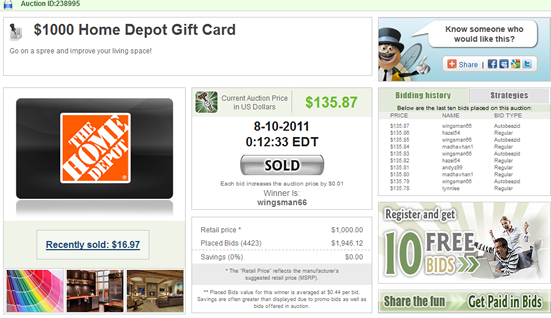 $135.87 – for $1000 gift card! Good job dear! Now let's spennn….WAIT! Hold the phone!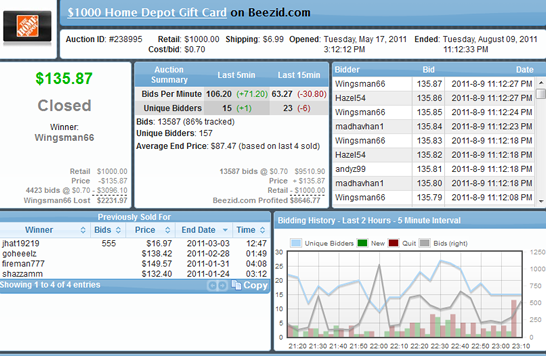 Oopsie. Guess a loss of $2,231.97 isn't going to help the home improvement situation.
#4 – iPad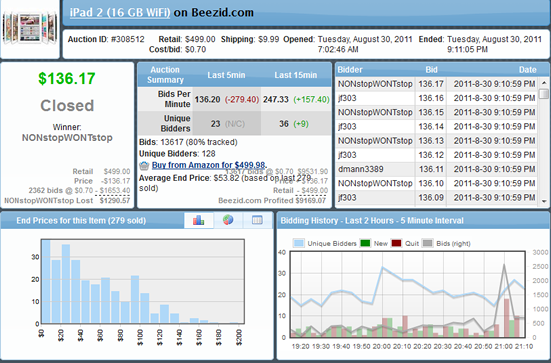 Well an iPad at $136.17 does SOUND good but the loss of $1,290.57 doesn't really FEEL good.
#5 – Toshiba Satellite Notebook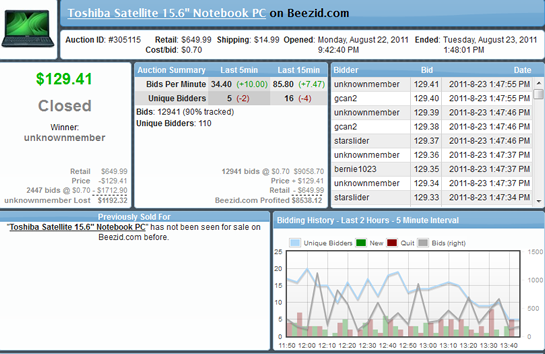 It's unbelievable – I only spent 12,941 PENNIES!…Umm just ignore the other 119,232?!?
#6 – $600 Wal*Mart Gift Card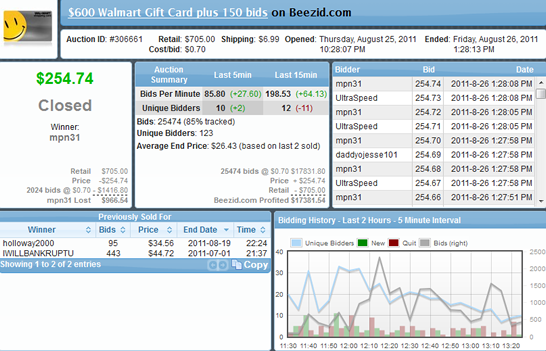 Yes, $600 Free to Wal*Mart WOULD be beneficial – but losing $966.54 kinda defeats the purpose.
#7 -2000 Bids Pack for Beezid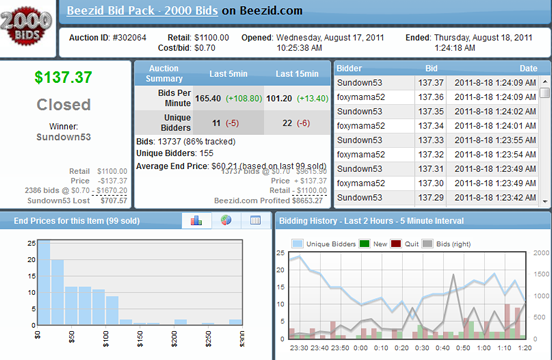 Looky! Looky!  I won! I won! Oh wait- I lost $707.57 to WIN?
#8 – Toshiba Satellite Notebook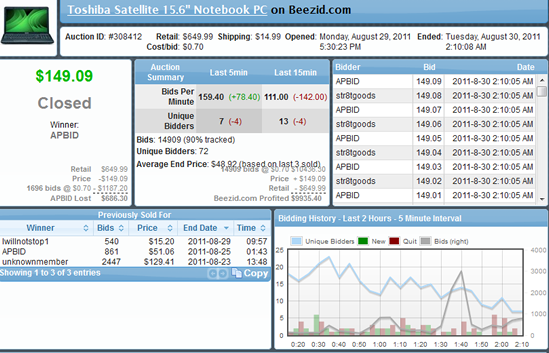 Using a computer to buy a computer with a loss of $686.30 to get it isn't always a win-win situation.
#9 – Samsung 50″ Plasma TV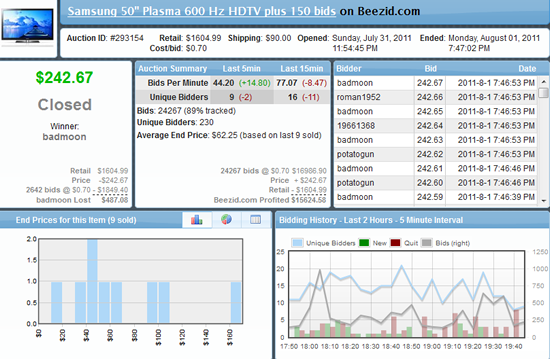 This winner only overpayed $487.08 to get his big screen!
#10 – Nikon D5100 DSLR Pro Bundle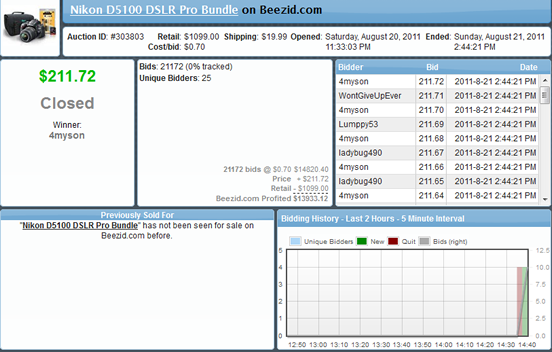 Our final THAT'S TOO MUCH winner will cherish the memory of their loss for a while!
The above 10 biggest battles on Beezid should remind you not to get emotionally attached to an auction and be able to walk away without over spending too much money.  Sure, having a never quit reputation as a power bidder will help you win auctions but we think you guys paid too much!  Thanks to AllPennyAuctions.com for displaying the data for the biggest battles in recent Beezid history.