Beezid is famous for running promotions all through out the year. Currently, they are offering a Memorial Day celebration called 'Memorial Day Madness' where they will be doing four different 'Bid Freenzies'. These freenzies, or promos include things like all your bids back no matter who wins. These are 'bid back' auctions where you need to load up on bids before the auctions begin and you will get all your bids back regardless of who wins.
Current Beezid Promo Code
Get 2 for 1 bids on your next bid pack purchase if you enter bonus code " FREEDOM " at checkout.
Step 1: Click Here
Step 2: Create an account and go to purchase bids. At checkout, enter FREEDOM as your bonus / promo code to double up on the amount of bids you receive.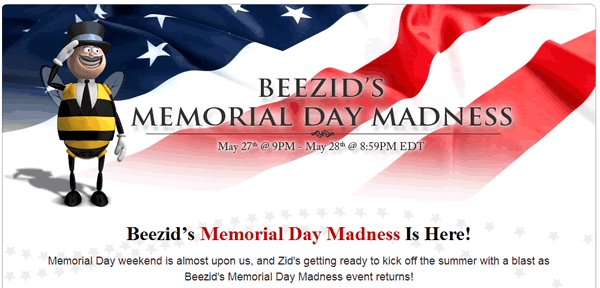 If you are going to participate in the bidding promotions at beezid then you should certainly stock up on bids by using the promo code freedom so you can double your bids. The promotion is running from May 27th at 9pm to May 28th at 8:59pm EDT.
You will get a full day of bids back auctions, a 25% price freeze to boot. That is a guaranteed savings of 75% off of retail on every auction, risk free.
Beezid Bid Freenzies (bids back promotion)
May 27th – 12AM to 1AM EDT
May 27th – 12PM to 1PM EDT
May 27th – 8PM to 9PM EDT
Remember, these are "Bids Back" auctions, not "Bid 4 Free" auctions, so make sure you load up on bids before the Madness begins! Also, the price freeze doesn't apply to any "Bid 4 Free" auctions happening during the event. Finally, Free Bids (the bids you get when you sign up) will not be returned to your account, but you can still use them in Cherry Auctions.
This page was written by +Jason Spry