A quick shout out to one of or favorite penny auction sites, HappyBidDay. There is a new 2012 HappyBidDay promo code that gets new bidders even more free bids when they make their 1st bid pack purchase. It offers the best bonus for new bidders, so be sure you follow the instructions on this page to claim your max free bids and get the biggest discount on bid pack purchase at Happy Bids!
It is important to close all windows that have HappyBidDay open NOW – Then follow the instructions below. In order to take advantage of this new promotion code you need to click our links and use our codes!
Happy Bid Day Promotion Code 2012 – Get MOST Free Bids
Here is the new promotion from HappyBidDay.com. Use bonus code "HAPPY" and you get the following:
The larger bid pack you purchase, the bigger discount you get.
90 bids for $55 – 20% discount
175 Bids for $87 – 25% discount
250 bids for $115 – 35% discount and BEST DEAL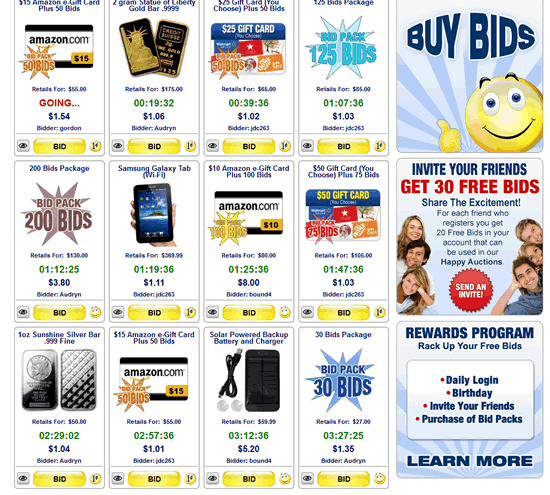 Step 2 is choose the bid package you are most comfortable with and make your purchase. Remember, this promotion is only available to new bidders at Happy BidDay and to take full advantage of this offer you should purchase the 250 bid package for only $115. Once you make your initial purchase, a good strategy is to then participate in the 'happy auctions' in order to purchase more bids by winning a happy auction at discount.
Happy Bid Day remains one of our recommended choices for an honest bidding site that offers enough auctions to keep you interested but does not have so many competitors that it is impossible to win.
About the Happy Bid Day Bonus Code
We have confirmed and tested the bonus codes listed here to be valid at www.happybidday.com and you can click our links and use these codes with confidence. If you are a new bidder, be sure to see our review of happy bidday and also you can read about other bidders experiences. Good luck in the auctions!