I was first lead to the penny auction site Quibids via a late night infomercial that come on watching something like storage wars or something on the history channel. Although I was already familiar with the penny auction model, I had not yet seen the site some poker friends of mine had been referring to as 'quick bids' and 'q bids'. I will list the exact steps to claim the 10 free bids at quibids using their current promo code.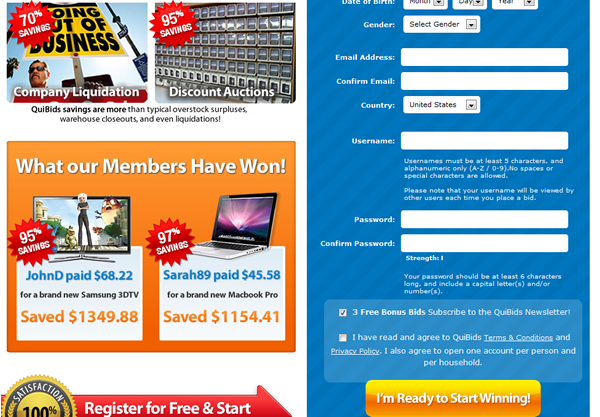 Step 1: Click here – register your new account with Quibids.com.
Step 2: Purchase 100 bids to start for $60 or "x" out of this page. X'ing out is the only way to get out of this page. Open up a new browser for quibids.com *verified that new bidders must purchase the $60 initial bid pack to be eligible for the 10 free bids using the instructions on this page.
Step 3: Use promo code "WINTODAY" Or check the current Quibids promotion code in our review, but at the time of this posting the bonus code is "WINTODAY" and it gets you 10 free bids
Step 4: Email Quibids customer support (support @ quibids.com) team via their contact page and enter a support ticket. Tell them that you saw the promo code on TV from a while ago (the newer commercials I've noticed that in 2012 they have not advertised a q bids promo code on TV. commercials we saw last year did clearly feature them. There was never a place to enter the code to redeem your free bids.
Step 5: Within a few hours, customer support will respond that they have credited your account with your 10 free bids
Jan 2012 Update – The newest quickbids commercials are no longer promoting a promo code so this offer may be going away soon, will update as we learn more!
Using The Qui Bids Promotion Codes & Get 10 Free Bids
Enter your information above and click the "I'm ready to Start Winning Button". You will notice that there is still no place to enter anything like a promo code or coupon code at this point. Let's go ahead and get through this section of the quickbids registration and see if there is a secondary page where they take more information and offer me a spot to use the promo code.
So, I went on a search for the current promo code for quibids (which is kept current on the review linked there) before signing.
If you scroll to the bottom you will see where you register and give them your basic information like name, email etc. There is not a field to enter a promo code anywhere that I can find.
The TV commercial caught my eye and I noticed that they offered a quibids promotion code that gave you 10 free bids. After that, I pretty much forgot about it until the wife said she wants a Breville Juicer and low and behold it turns out that Quibids auctions that exact juicer and their price was only a little bit higher than I could find discount shopping at Amazon. That fact, combined with the fact that they offered a buy it now on the item made me want to go for it and try to win it.
On the next page be aware that it is slickly designed to get you to make your first purchase for $60. There is actually no way off that page without "x'ing" out of it other than making your first beginners bid pack purchase for $60. I missed my screen shot of this but will get a friend to sign up and add it to these instructions as soon as we can get it and add it to these instructions.
Completing The Quick QuiBid Registration Process – Do I have To Buy Bids?
No, you do not have to purchase bids at this point.Yes – January 2012 confirmed you must purchase the initial bid pack purchase of $60 in order to be eligible for the free bids. However it appears that you do just to complete the registration. This is not the case even though that page is optimized to get most people to buy the beginners bid pack for $60.
You do have to make this initial purchase if you do not want to. This page is designed specifically to get you to do so and after experimenting with the site, your first purchase on Quibids.com must be this beginners bid pack. Do not worry, you do not get a better deal buying larger bid packs so there is not a benefit you are missing out on by purchasing the beginners pack. Keep in mind that at this point the only way I could find off this page was to complete the purchase. You do not have to make that first purchase if you do not want to, but you can not get the free bids without doing so.
All you have to do is open a new browser window and go to Quibids.com and log in.
You will see the 3 free bids you get for signing up to the news letter. Be sure and log in to your account with the details you previously created from step 1 in the process show in the first screen shot above.
At this point you have the 3 free bids but not the 10 free you were advertised to about on TV. You now need to contact QuiBids customer support and enter a support ticket. It is easy to do and nicely tell them that you were watching TV (radio, whatever), saw their ad for 10 free bids with promo code (use our link above and find the most current code). Enter a friendly support ticket and the customer support team will credit the bids to your account usually within a few hours.
Ok, that's it and thats the quick tip for qbids to get your 10 free bids! Be sure and check our top penny bidding sites for links to quality places to battle for bargains or take a look at our home page for the the best penny auctions online!