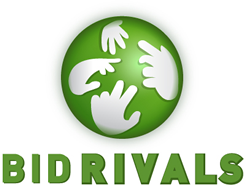 It was recently announced that penny auctions site Bidrivals would be focusing their attention on their core market as of October 24, 2011. They feel by focusing on Europe and Australia they'll be able to increase their marketing activities and build a better market.
What Happened to BidRivals.com Affiliate Program– What does that mean for US penny auction bidders?
On October 24th, BidRivals ceased to accept affiliates from the USA. If you were a regular affiliate there then you need to find a new home.
Here is our top list of penny auction sites.
Our Top Choice for BidRivals Replacement = QuiBids.com – Largest PA site in the US with 100% BIN Auctions!
[geocode id=1]
At this time it means that getting your penny auction fix will not be happening at bid rivals. However, the good news is you can still get your penny auction battles in at other quality sites listed above. One of the unique features that BidRivals had was that they had mostly BIN auctions.
One of our top-list penny auction sites is Skoreit.
You'll find our Skoreit Review to be very insightful as you choose where to direct your bids from now on.
You may also want to try a penny auction site with a BIN opportunity. (Not sure what BIN is? Click here to get your questions answered.) A great BIN penny auction site would be Quibids.com. They are one of the largest current penny auction sites – making them a great choice.
For those non-US penny auction bidders
We encourage you to continue trying your luck at Bidrivals.com! May the focus they put on you – their core market – be to your advantage in the future penny auctions.